7.15.1. Permission Check by handler¶
This function checks the permission for the functions provided by the application. This function enables access control such as limiting the functions that can be used by each user on the web.
Important
This function should be used only when the application requirements are met.
This function manages the permission data used for permission check using the database and sets the permission for each request (see the conceptual model shown in Permissions can be configured in combination with group and user units). For example, a web registration function is generally composed of multiple requests such as initial display/confirmation/return/registration.
Therefore, while permission can be configured in detail for this function, data design is also required in detail, which may reduce productivity during development and increase operational load after release.
In addition, Permission Check by annotation provides a function to manage permission with a simpler data structure than this function. If it is difficult to use this function, Permission Check by annotation can be an option.
The conceptual model of permission configuration used for permission check is as follows.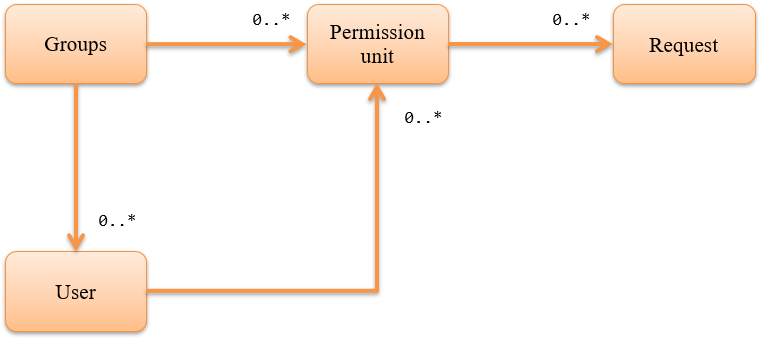 Groups are used for assigning permission to organization units such as departments.
The permission check unit represents the minimum unit of permission check by collecting multiple requests. Requests required to realize the permission check, that is, multiple events on the screen for web, are associated with the permission check unit. For example, the data is as follows for a user registration function.
Permission check unit

Request associated with permission check unit "user registration"

Initial display of input screen

Confirmation button of input screen

Registration button of confirmation screen

Return button of confirmation screen
By configuring the relationship between the group and user, and the group and permission check unit, permission can be set for each group. Furthermore, since the permission check unit can be set directly to the user, irregular permission to a specific user can be configured.
<dependency>


  

<groupId>

com.nablarch.framework

</groupId>


  

<artifactId>

nablarch-common-auth

</artifactId>




</dependency>




<dependency>


  

<groupId>

com.nablarch.framework

</groupId>


  

<artifactId>

nablarch-common-auth-jdbc

</artifactId>




</dependency>