3.2.10. Master Data Recovery Function¶
In normal cases, the master data is not rewritten when testing. However, in tests such as the master maintenance function, there are some test cases that cannot be executed without changing the master data. For example, in the abnormal-type test cases such as those where the data that should have existed did not exist, it is necessary to delete the records from the master data.
If the master data is changed during the test, the test of subsequent test classes may fail because the master data is in an unexpected state.
In order to prevent such unintentional test failures due to master data changes, when the master data is updated during an automated test, a function is provided to restore the master data to its original state when the test method ends.
You can always test with the correct state of master data, regardless of the order in which the tests are executed.
Since the master data restoration is performed automatically, there is no need to provide the restoration process and data for restoration in each test class.
Since the master data is restored in batches for each table from the backup schema, restoration can be done faster as compared to inserting the records one by one.
To use this function, the following two schemas are required.
| Schema | Description |
| --- | --- |
| Schema for automated testing | The schema used for automated testing. |
| Backup schema | A schema for storing the master data for use in restoration. |
The automated testing framework fetches a list of table names to be monitored from the component configuration file. During test execution, the automated testing framework monitors the SQL log and detects whether an SQL statement was issued to change a monitored table.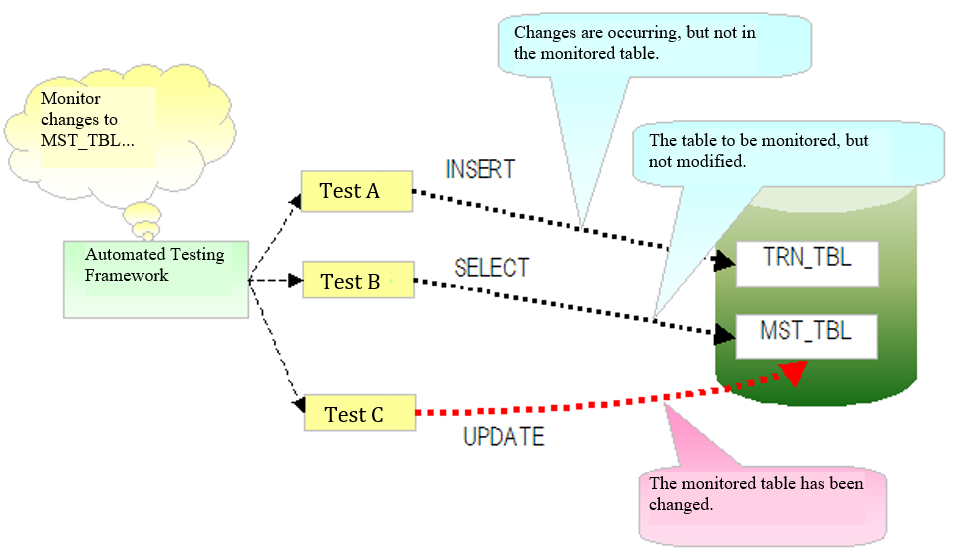 If an SQL statement that changes a monitored table was issued, the changed table is restored after the test method ends. When restoring the table, all the records in the table are temporarily deleted. Then, all the records are inserted from the table in the backup schema.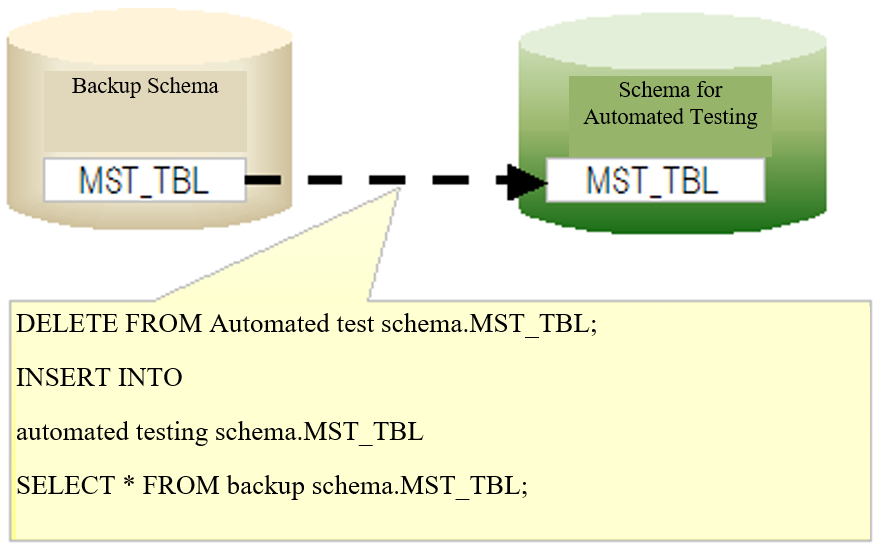 Build an environment as follows and enable the master data restoration function of the automated testing framework.